I was born on 14th December in 1989 in Tallinn, but for the biggest part of my life I have lived in the Estonian summercapital Pärnu. I'm 25 years old.
In 2009 I graduated from Pärnu Hansaetic Gymnasium, after having studied there from 1st grade.
At the moment I'm working as a photographer/designer at a small photo-shop in Pärnu and studying at Pärnu Saksa Tehnoloogiakool to become a multimedia designer.

I first started with photography as a hobby in 2004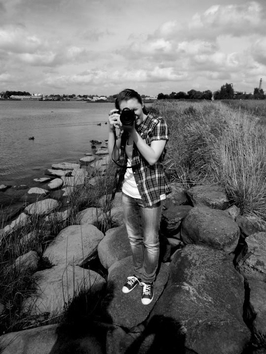 when I had my first little digital camera -
Canon PowerShot A410
. With that I took photos of everything that I saw. At one point I "discovered" the macro option and from that point that was all I wanted from that camera. I started following bugs around, especially those that flew. And then I got hold of my father's dSLR
Nikon D100
and continued taking photos with that. Most of the time I take pictures with
Nikkor macro lens
. Or you could also say, I create my art with that.
Times change and technology changes. My current tool is the
Nikon D7000
.

With my photos I have participated in a yearly organized photoexhibition "Pärnumaa Foto" by the local newspaper Pärnu Postimees 8 years in a row. On my second year of participation (2007) the organizers loved one of my photos called "Wants to become a dragonfly when grows up" and I gained recognition and received a Canon photo printer as a prize.
In 2009 I participated in a contest called "I love to catch smiles" which was held in an Estonian photo environment nagi.ee with my photo called "Anett and Tess" and walked away with the main prize - a Sony Ericsson mobile phone.
You can also find my photos here:
500px

I have exhibited my photos:
Estonian House in Stockholm (Sweden) 21 May - 10 June 2010
Pärnu Visitor Centre 19 June - 31 July 2011
Pärnu Hansaetic Gymnasium 30 August - 11 October 2011
Vaasa Library (Finland) 1 June - 29 June 2012
Vähäkyrö and Savilahtitalo (with the elderly of Vaasa) 1 August - 28 August 2012
Pärnu Visitor Centre 23 September - 1 November 2012
Pärnu Dental Polyclinic 28 November 2012 - 2 February 2015